Yeltsin. A Revolutionary Life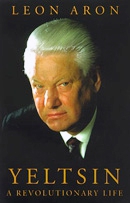 In telling Yeltsin's story, the author recounts the struggles of a great nation at one of its most fateful moments and chronicles the twentieth century's last great revolution.
"In his ambitious and perfectly timed new biography...Aron sets out to reclaim Yeltsin from the cartoonists and establish his importance as the instrument of a profound transformation of Russia. It is a complex and nuanced portrait, not adoring but unabashedly admiring. A godsend . . . a fine, full-blooded political portrait" – Bill Keller, New York Times
Yeltsin : A revolutionary life / Aron Leon. – New York: HarperCollins, 2000. – XXIII, 934 p. – ISBN: 0312251858
Table of Contents

Acknowledgments
Preface
List of Illustrations

Part I :A Man from Sverdlovsk
To Survive, to Dare, to Succeed!
The Builder
The Pervyi

Part II: The Bellwether
Perestroika, Mark I
Antaeus
The Year of Truth
America, America

Part III: The Storm
The Year of Choice
Rolling Up the Sleeves, Raising the Fists

Part IV: In Power
The Revolution
The President vs. the Soviet
The Nadir
Campaign '96: Choosing Russia's Fate
The Last Struggle
Epilogue: In Search of a Historic Yeltsin

Brief Chronology
Glossary
Notes
Bibliography
Index
*- The American Enterprise Institute
1150 Seventeenth Street, N.W.
Washington, DC 20036